The Vindicator Valley Trail
Begin your adventure into gold rush history from one of 2 trailheads - with access to the Theresa Mine & the Vindicator Mine near Victor, Colorado. The 2-plus-mile loop winds through remnants of 1890's gold mines. Interpretive signs explain the legend of gold mining in The Golden Loop - a circle of railroads that once served the gold mines & town of Independence.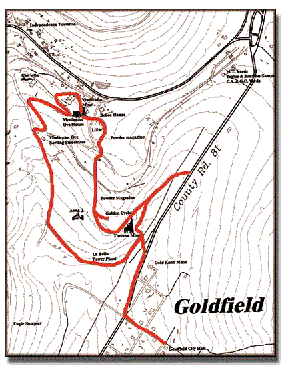 NOTE: Sturdy hiking shoes & clothing appropriate for mountain weather are necessary gear for these backcountry trails. Sites at the Theresa, Vindicator, Independence & Gold Coin Mines are handicap accessible.
Gold Coin Mine in Victor, Colorado
At Diamond & Fifth, see the Woods Brothers' famous Gold Coin Mine. The brick foundations & grand hoist are the remains of the Woods' gold mining empire - the legacy that built Victor, The City of Mines.
While this project is open currently, further work is planned in the future.
Little Grouse Mountain Trail
A short climb up Little Grouse Mountain offers views of the Cripple Creek & Victor Gold Mining Company valley fill operations as well as a 360-degree view of the mountains to the west and surrounding mountain tops. The Little Grouse Mountain Trail begins at the parking area just west of Victor on the south side of the bridge over Arequa Gulch. At the trailhead is an historic mining equipment display. Brochures at the site describe the equipment, which was saved from historic mines in the District
Gold Camp Trail
Hike up or down the trail through Poverty Gulch where Bob Womack found gold in 1890. The trailheads are just to the west of Hoosier Mine on County Rd. 83, and at the Cripple Creek Welcome Center near the Cripple Creek District Museum. Learn about the famous Gold King Mine, the C.O.D. & the Mollie Kathleen Mine. End your hike at the Cripple Creek District Museum where gold mining history is displayed at the head of historic Bennett Avenue. To get a first-hand look at 1890's underground gold mining, take the Mollie Kathleen Mine Tour just north of Cripple Creek.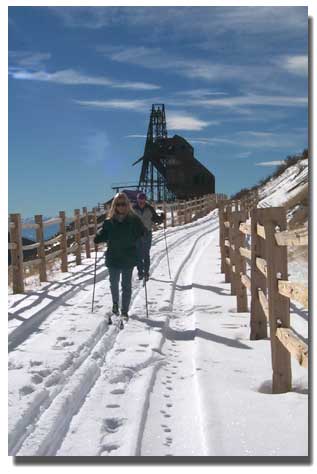 Beginner to intermediate slopes - through picturesque 1890's gold mining country - ski in the sunshine at 10,000 feet.
Lodging available in nearby Victor, CO.
When snow amounts allow for skiing, both hikers and skiers are welcome.