The Southern Teller County
Focus Group
Invites You to
The Golden Loop Historic Parkway
Trails, Historic Sites, Driving Tours
Featuring Gold Rush History
Near Victor, Colorado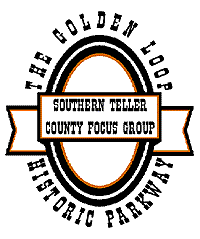 As Seen on Colorado GetAways,
Recipient of a 2001 Colorado Mine Reclamation Award & State Honor Award for Historic Preservation...
Working Toward Positive Solutions for
Southern Teller County
The Golden Loop Historic Parkway
A Series of Interpretive Sites & Trails
Through the Cripple Creek Mining District:
*Vindicator Valley Including the Theresa &
Vindicator Mines - IN WINTER open for cross country skiing!
*Stratton's Independence Mine, A National
Historic Register Site
*Battle Mountain Trail - a Millennium Trail
*Independence Millsite Trail
*Golden Circle Trail
*The Gold Coin Mine, The Legacy That Built Victor
*Little Grouse Mtn Trail - A Natural Interpretive Site
*Golden Loop Driving Tour Through Historic
Mining Backcountry Roads
*Gold Camp Trail - Interpreting the History of Poverty Gulch
*Cresson Ore Sorting House - A Recreation of the Original

What Is The Southern Teller County Focus Group?
About Us...
For information about the
Southern Teller County Focus Group, write to POB 328, Victor, CO 80860
Email focusgroup@web-xpres.com

Donations and volunteers are welcome and help
further the group's projects.


The Golden Loop Historic Parkway is located
in the Cripple Creek Mining District
on the southwest side of Pikes Peak.

This RingSurfTHE GHOST TOWN WEBRING Net Ring
owned by Trails of Gold.
[ Previous | Next | Random Site | List Sites | Join
Please note our website is moving to www.victorcolorado.com
For the most current STCFG news, visit
www.victorcolorado.com